Heavy-Duty Towing, Fort Lauderdale
Do you need a tow truck in Fort Lauderdale? If so, you have landed right where you need to be. We have been labeled the BEST towing service in the area because we know how to provide services to our customers and ensure that their heavy-duty truck is towed properly. Our company is known for offering the lowest prices, fastest response times, and qualified drivers. Each one of our drivers has received extensive training and knows how to properly hook up and tow any tractor, trailer, semi-truck, or oversized truck. If you are in need of heavy-duty towing in Fort Lauderdale, call Heavy Duty Towing Fort Lauderdale now to discuss your options or to receive an estimate over the phone.
We are proud to be able to say that we can provide you with quality service in the area. We never want you to be stuck on the side of the road and our drivers work 24 hours a day, 7 days a week.
Cheap Heavy-Duty Towing – Fort Lauderdale, FL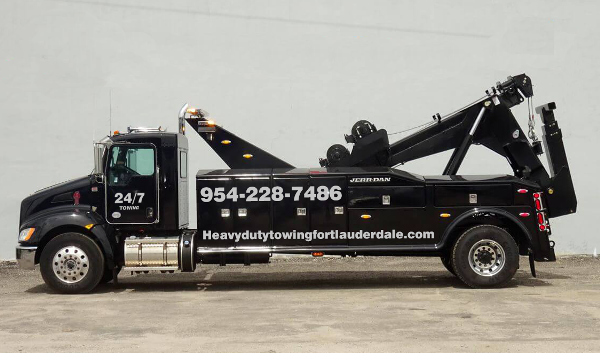 Heavy-duty towing is not always as affordable as you may think and some companies will charge you a lot of money for late night towing and more. When you work with our team, you can rest assured that you will receive the best prices in town. We have priced our services so low that you are sure to be impressed when you call us.
When you need a tow for your heavy-duty vehicle, call our office. Our team members can provide you with a quote before a driver is dispatched to your location, this way, you always know how much it will cost you.
We Have the BEST Fort Lauderdale Heavy-Duty Towing Drivers
Driving a heavy-duty truck takes time, skill, and patience. The same applies to when you need to have your heavy-duty truck towed. You do NOT want to work with a tow truck driver who is not experienced, as this is a big mistake. You should make sure that the driver who arrives is licensed and insured, first and foremost.
When you work with our team, ALL of our drivers are experienced, licensed, trained, and insured. We will never send an inexperienced driver out alone on the road. Our drivers know how to hook up your heavy-duty truck to ensure it is properly in place. We will then perform and inspection on it to make sure that the truck does not sway or lean.
Our drivers have the experience you need to rest easy knowing that your heavy-duty truck will arrive to its location safe and sound. If you would like to discuss your options for towing in Fort Lauderdale, now is the time to call our office.
Call Us for a Heavy-Duty Tow
If you are looking for a heavy-duty towing company in Fort Lauderdale, now is the time to call Heavy Duty Towing Fort Lauderdale. We work closely with our customers to make sure their needs are met and that they never have to wait hours on end for us to arrive. Call us now and we will dispatch a driver to your location.