Services
When you choose to hire the team at Heavy Duty Towing Fort Lauderdale for a tow, you can rest easy knowing that we will be able to provide you with the best services. Our team works hard to ensure that you never feel as though you are stuck on the side of the road without any type of help. One of the things you need to think about when you hire a heavy-duty towing company in Fort Lauderdale is whether or not their drivers are licensed and trained. If an inexperienced driver does arrive to tow your vehicle, do NOT let them. It can result in serious damage to your heavy-duty truck and leave you with a serious repair bill.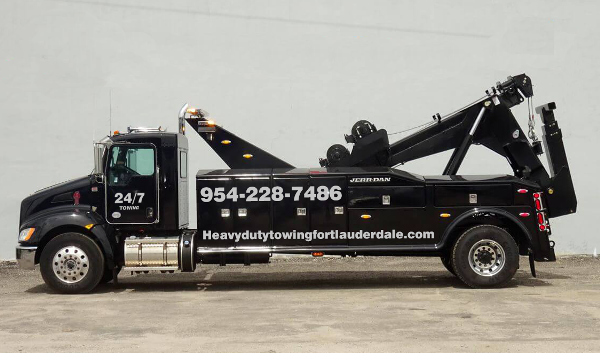 Our drivers are ready to provide you with safe services that affordable. Our team is completely trained and uses their years of experience to help guide them day in and out. You never know when your heavy-duty truck may experience an issue, but when it does, we are here for you.
We come out to your location as quickly as we can and we work around the clock to ensure services are available to you 24 hours a day, 7 days a week. If you are looking for a team of tow truck drivers who truly care about you and getting your vehicle back out onto the road, call Heavy Duty Towing Fort Lauderdale.
Heavy-Duty Towing is Affordable in Fort Lauderdale
When you find yourself in an unpreventable and unexpected situation, you need to know that you can receive the tow you need, when you need it. Our team is able to provide you with just that. In addition, we also offer roadside assistance to those who only need minor repairs to get back on the road.
Our drivers work as quickly as possible, so that you do not experience a ton of downtime. You do not even have to wait hours for us to arrive either. When you hire a tow company, you need to know that their prices are affordable and we make sure that is the case. We have priced our services as low as possible and we know that you will be impressed. We deliver quality work for a fraction of the cost.
If you would like to learn more about how much it will cost for you to receive a heavy-duty tow for your truck or trailer, call our office now.
Call Our Office to Receive a Tow
Our drivers are the best in the business and they can haul any type of oversized vehicle from a dump truck to a semi-truck, and even a tractor trailer. Our drivers are licensed, insured, and trained to properly hook up and tow your heavy-duty vehicle.
No matter where you are located, our team is ready to work with you. If you are in need of heavy-duty towing in Fort Lauderdale, call the team at Heavy Duty Towing Fort Lauderdale now.